Unique fire and glow show event entertainment
Table of Contents:
About
Case Studies
How do we create shows?
Safety
How we work with our clients
Testimonials
About Spark Fire Dance

Spark Fire Dance pushes boundaries by bringing the magic of flames to audiences around the world. Former Cirque du Soleil artist Dan Miethke and lead choreographer and firedancer Stephanie Hoeggerl are the founding duo behind Spark Fire Dance, entertaining and creating world-class fire shows together since 2008.
Their team of professional performers and technicians bring high-energy, artistic and sophisticated spectacles to create a whole new level of entertainment, by combining circus acrobatics, dance choreography and special fire effects to each show.
Ranging from global scale events to exclusive private functions, Spark Fire Dance create unique shows to stun and delight for the unimagined occasion.
Case Studies
The 2012 MTV European Music Awards – Frankfurt
The carnivalesque theme at the 2012 European Music Awards was the perfect event to set alight with the best show of fire play. The performance doubled as a huge party with dancers and acrobats. Featuring spectacular pieces from world renowned Cirque Bijou, an aerial fire ring, pyro backpacks and Spark Fires own dragon's breath fire swords. Dancers sashayed across the stage with flaming hoola hoops and jump ropes, whilst larger fire and pyrotechnic elements by Cirque Bijou and Spark Fire Dance created a brilliant backdrop for the live performances and brought an authentically sexy, burlesque-style atmosphere.
It was an amazing production to be a part of that was beamed out on MTV's global network of more than 60 channels reaching nearly 700 million households around the world.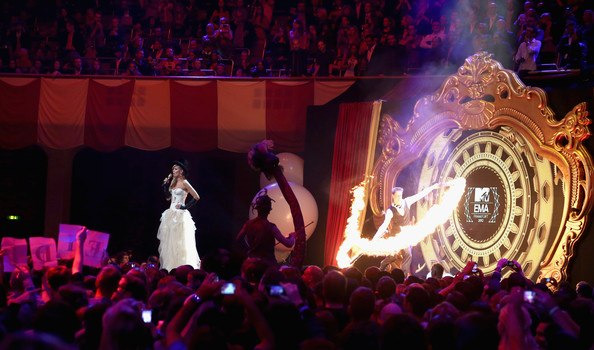 Art on Ice – Zurich, Lausanne, Davos, Stockholm, Helsinki
As part of the Art on Ice tour Spark Fire Dance had the tremendous opportunity to dazzle the audience with a unique effect, setting the ice on fire.
Spark Fire performers made flames dance across the ice in intricate patterns while using pyrotechnics to bring the performance to life. One of the latest and largest effects was the Dragon fire swords used with Sparkle Fire effect, which created create a huge cloud of fire and glittering points like fireflies with the performer in the middle of it all.

How does the Spark Fire Dance team create unique shows ?
Dragon Fire
The energy of this phenomenon is one that needs to be experienced to be believed. The Dragon Fire effect was designed by Dan Miethke during his time with Cirque du Soleil, an effect boasting roughly textured flames with a tremendous visual and audio impact. The size of the flames can be controlled to suit the space of the venue. The sound of the flames and rush of heat guarantees a lasting impression.
Sparkle Fire
This glittering addition to the shows creates a beautiful but tightly contained sparkle around the performers props. Used throughout their choreographies this stunning effect adds a touch of magic to the entire performance.
Special Elements of your choice
There are several ways Spark Fire's team can wow your audience, depending on what you want them to see.
Do you want your TV host to wear a flaming hat? Perhaps, have the artists enter the stage with smoke trailing behind? How about adding a little something to an Olympic torch lighting ceremony?
We've done all this and more. We can work with directors and producers to brainstorm unique ways to bring our skills and effects to bear on your vision. We have a range of props and skills that can be utilised in different ways and incorporated into our choreography.
For a softer greeting have Spark Fire acrobats roving with fibre optic glow wands offering their own magical firefly effect.
Keeping safety top priority
We maintain the magic in our shows by making sure we practice and perform with the highest safety standards. Completely odourless, smoke free, soot free, non toxic specialist fuels are used, designed for guests' comfort and with no impact to indoor venues.
The largeness of the effects are tailored to each location. The Dragon Fire can be precisely controlled, either reaching 8 meters high in a stadium or barely 3 meters above an indoor stage, and completely dependent on the venue's space.
Spark Fire Dance have performed their acts in many venues with extremely strict OH&S regulations, from UK heritage listed buildings to luxury locations such as the Burj Al Arab, Madinat Jumeirah, Venetian, Wynn, Crown, Sands and MGM casinos.
Spark Fire Dance acts have been performed inside TV studios, casino resorts, on super yachts and in Hiltons, Marriotts, Kempinski & 4 Seasons properties.
World-renowned experts in their field, the Spark Fire Dance team also provide training to in-house technicians in advanced fire safety as well as specialist fuels procedures on some of the largest productions in the world.
Franco Dragone artists and technicians were coached in the use of specialist flame effect props and fire safety. Spark Fire Dance provided consultancy and coaching to Cirque du Soleil and also created bespoke effects for the 2015 European Games in Baku.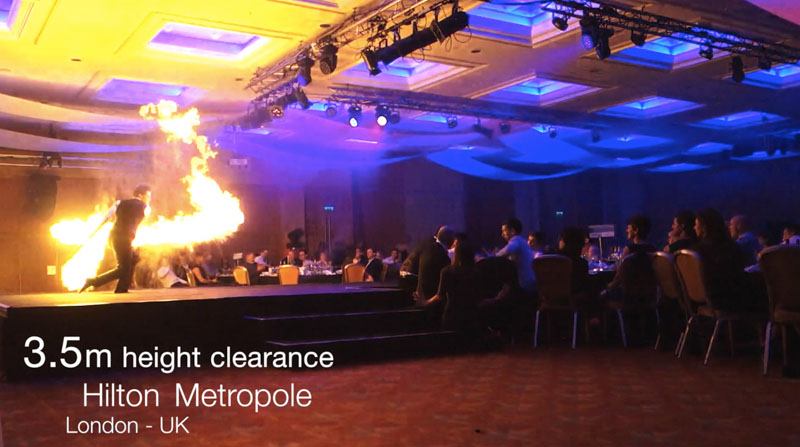 How we work with our clients
All our clients have unique needs which we take the time to learn and understand. Sometimes a turnkey act is the best solution, sometimes a bespoke creation.
By working collaboratively we want to bring your ideas to life in the most outstanding way possible. We will discuss ideas, themes and requirements in detail, going over the venue, audience demographic and aim of the event.
We can create a tailored proposal from this brief and modify the various options as required. We will always maximize the potential of all our resources to ensure our clients' needs are met.
Upon agreeing on the show direction we will mix and preview soundtracks for some initial feedback. The artists and crew are cast, and costumes will be selected or created. Rehearsals are booked as needed.
On the day of the performance we will co-ordinate the technical light and sound elements to ensure optimal visual and auditory impact is achieved.
Our thorough preparations ensure a smooth and enjoyable experience for our clients.
Our job is to deliver, whether a dramatic or fun performance is called for, whether the venue is a club, palace, conference hall or anything in between.
What people have said about Spark Fire Dance
"The duo from Spark Fire Dance were fantastic! Just the two of them filled our huge stage and kept our 5000 attendees on the edge of their seats." – Sky TV Production Team
"I honestly can't put into words how amazing it was, it was everything I hoped it would be and more." – Karine Zegrir, Press Relations Hotel Royal Evian les Bains
"Thank you, it was magnificent. I was right next to President Aliyev and we could feel the flames! We'll have you back next year." – Manager Four Seasons Baku, Azerbaijan
"Absolutely mind blowing!" – Alex Zane, radio and television presenter
"Feedback was fantastic as always! Thanks so much to both of you." – Cirque Bijou
"Spark Fire Dance – I found them outstanding, very dangerous and very impressive and very elegant at the same time. They act, they literally play with fire, acrobatics, dance, all of it."
– Alessandra Martines – Le Jury – The Best : Le Meilleur Artiste
We would love to work with you
What do you envisage for your next event? Let us help you to expand on your ideas or bring new possibilities to the table, whether it's a corporate event, product launch, a private party or an exclusive show. Spark Fire Dance is dedicated to delivering the ultimate entertainment experience time and time again.
For initial enquiries or to book your event contact us on info@sparkfiredance.com or call +44 7581 438 865.