Fire Dancers, Fire Jugglers, Do you want the best? 
Table of Contents:
Cutting Edge Fire Arts
History
Skills Involved
Putting Together a Show
Case Study
Testimonials
Spark Fire Dance presents cutting edge fire arts by former Cirque du Soleil performers.
These dancers take fire performance to the next level with their signature style a passionate quest for new pyrotechnic knowledge and larger effects.  The team is compiled of accomplished specialists within the realm of fire and pyrotechnic props with over two decades of experience. 

Using the unique 'Dragon Fire' special effects Dan originally developed for Cirque du Soleil on the stage of 'Zaia', the dancers are able to reach new heights with their flame-tinged spinning, juggling, and dancing.
With the hypnotic nature of the flame, Spark Fire Dance brings the right amount of heat and entertainment to any corporate or luxury event. The company is based in Bristol and London UK and takes pride in offering both Duo, Trio and Quartet fire acts for many events including awards nights, product launches, stadium spectaculars, circus productions, film and television. Spark Fire Dance has left its mark in over 110 cities in over 50 countries around the world.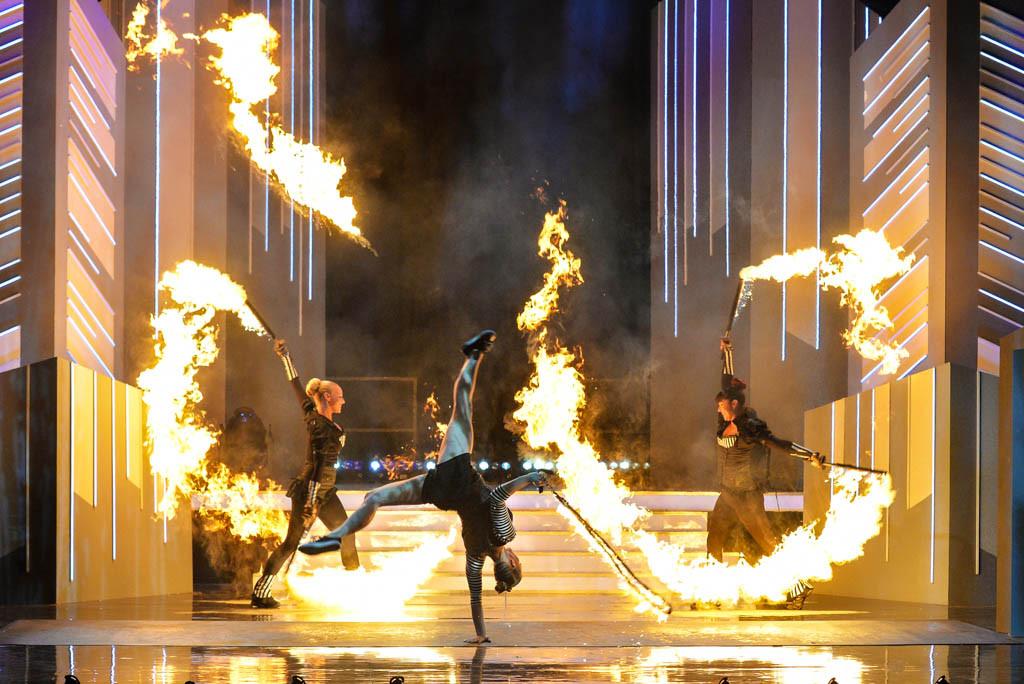 History of fire dancing
Fire dancing is a dance of intrigue and danger. There is a grace that intertwines the dancer and the flame. This art form has been practiced by different cultures across the globe for hundreds of years.
Traditional fire dancing can be traced back to the ancient Aztec for example, where it was an artistic tribute to their god of fire, Xiuhtechuhtli. On the island of Bali on the other hand the Angel and Fire Dances were trance rituals to ward off witchcraft and negative energies that were threatening the village. The Dancers were accompanied by drums and methodic chanting.
Today the roots of fire dancing have become blurry within the realm of tourism, though there is no doubt of the ancient echoes.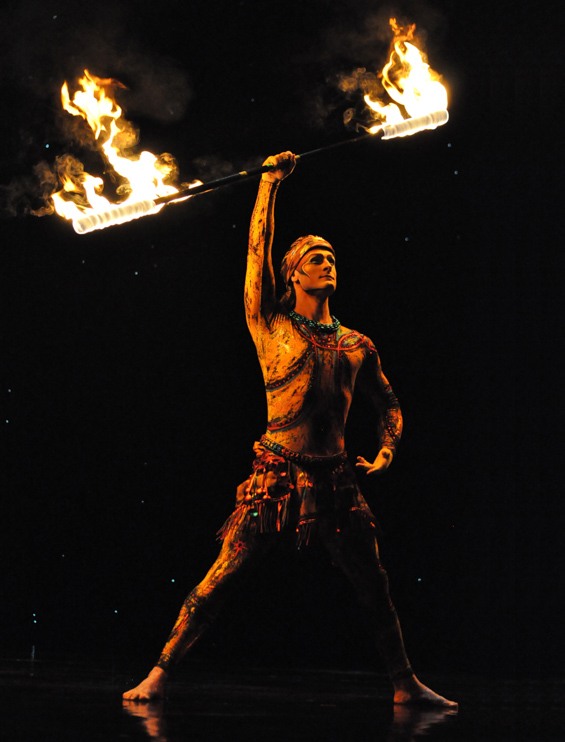 Skills involved
In addition to moving with and – at times – through the fire with ease, a fire dancer must posses many skills, from intricate object manipulation such as baton twirling, staff or poi spinning and juggling to movement awareness, dance and martial arts.
Fire breathing and fire eating are skills which are often requested, however fire breathing is inherently dangerous. The unique Dragon Fire effects of Spark Fire Dance can enhance a fire show in a similar manner with much more control and safety.
The shows also feature unique props such as fire swords, fans or fire hula hoop – the latter adding a sensual, feminine touch to a performance.
Artistry
There are many different styles of fire dancing. Some artists choose to present their fire performance in a traditional way referencing its tribal origins whereas others create unique concepts merging fire arts with other themes, circus styles or even theatrical elements.
Spark Fire Dance specialise in combining fire performance with dance and acrobatic elements. They frame their performance in a novel way by introducing slick characters and distinct themes such as their vintage-style Swing Fire Show.
History of fire juggling
Fire juggling, oftentimes referred to as torch juggling, is the art of juggling lit torches. Academics have even found hieroglyphics of fire jugglers in Ancient Egyptian caves. The pharaoh found himself entertained by the music, the dancers, and the dangerous grace of the fire. It can be an exciting show fit for kings.
The Skills of fire dancing
Physical training with the props is just a small part. Ongoing research and development into fire safety, international fuels and pyrotechnics keeps the Spark Fire Dance team on the cutting edge of bringing a safe show to every event.
Choreographically innovative Spark Fire Dance continually challenge themselves to match an events theme with music that suits.
Adapting to changing circumstances is an important aspect that allows the team to work in so many situations and events.
Entertainer artistry
It's not just about hours of hard work and training, it's about creating an act and a piece of art. It's about creating a performance that matches the beauty and intensity of fire. The dancers at Spark Fire Dance use their many years of theater and stage training to create a physical and mystical composition.
Putting it together into a Show
The flames naturally captivate and draw the audience's attention to the hypnotic patterns of the fire. Performers manipulate their props and present their most daring tricks with the flames adding an exciting element of danger.
However a real show takes the clients audience and event theme into account. Building tension and act pace to culminate in a finale that leaves a memorable impression and breathless audience.
Soundtracks should be tailored to be accessible to the demographic and where possible to suit the clients themes.
Seamless choreography
Spark Fire Dance creates compositions and not just shows. Each movement welcomes the next; each dance ushers in another chance to be amazed. From throwing flaming staffs to breathing ribbons of fire, the performers have made sure that no detail has been overlooked.
Storytelling
Rooted in ancient tradition, fire dancing lends itself to telling stories.  Fire dance can tell stories of passion, of life, and of physical prowess. The artists of Spark Fire Dance present their daring shows to the audience with a beginning, middle, and a finale of epic proportions.
Case study
"Le Meilleur Artist" broadcast on Frances TF1
Spark Fire Dance embarked on a journey to wow the French market on TV1's Beat the Best! In two and half minutes, the performance sparked much conversation and praise.  The explosive performance eagerly took on the challenge of bringing a new and innovative act to the demanding French entertainment scene.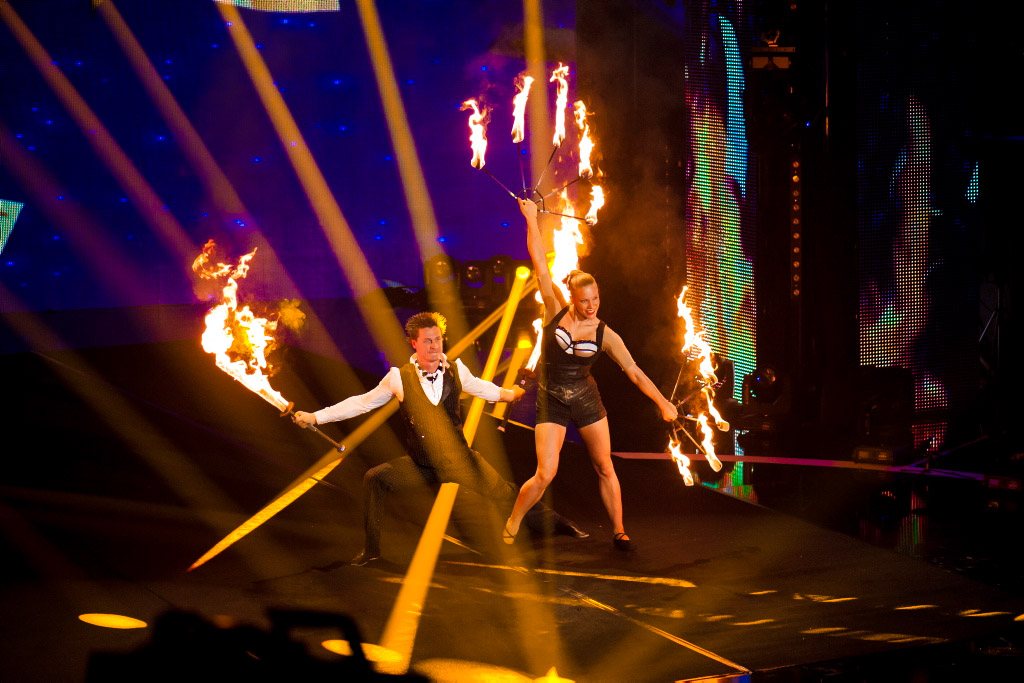 Testimonials
"The artists are so forthcoming! It's great! The venue is so difficult that it makes my life easier to have someone so flexible! I'm so impressed, Thank you!" – Laine Priedite – TA Cook
"The paperwork is comprehensive, I am very satisfied with your procedures. Your effects are great! Have a good show tonight!" – Chief Fire Marshall Gunther Prost – Mannheim Fire Department
"Thank you, it was magnificent. I was right next to President Aliyev and we could feel the flames! We'll have you back next year" – Manager Four Seasons Baku – Azerbaijan
"I honestly can't put into words quite how amazing it was, it was everything I hoped it would be and more." – Karine Zegrir, Press Relations Hotel Royal Evian les Bains
"The duo from Spark Fire Dance were fantastic! They filled the stadium stage with their charisma and kept our 5000 attendees on the edge of their seats." Sky TV Production Team
"Absolutely mind blowing!" – Alex Zane, radio and television presenter