A bit of a catch up post for us, we've been flat out!
Cannes Film Festival & Monaco Force Blue Superyacht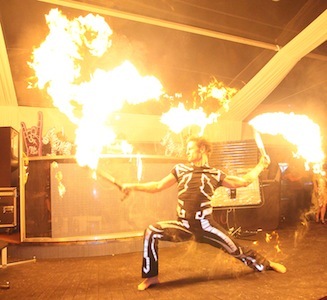 2 weeks of high rollers galore as we performed on a super yacht in Monaco with the superstars of LMFAO and added our flaming signature to customised productions for the 2013 Cannes Film Festival.
Paris – Le Meilleur Artiste
We recently had an amazing two days of filming for the exclusive french talent show, Le Meilleur Artiste! with our new Electroswing Fire act featured. Screening across europe on Frances TF1 later this year.
Mexico – Leon Feria 2013
We spent the winter months on contracts in North America and performed our fire shows and aerial acts at one of the largest Ferias in Mexico to over 15,000 people a day!
The audiences were fantastic, super enthusiastic about circus. What a pleasure to be welcomed with so much warm applause by people from all walks of life.
Week days was an early rise for performances at 10am! Not usual for us, but the audience totally made it worth
it. 5000 kids from surrounding towns screaming with joy. They'd never seen entertainment anything like our fire and pyrotechnics shows and were more than happy to share their excitement with us.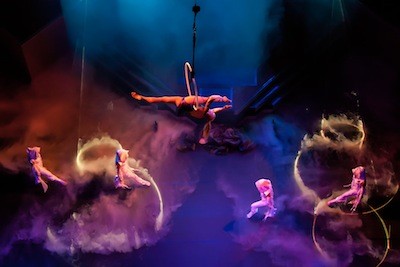 It was great to be working at the same festival as the amazing circus company 'Les 7 Doigts de la Main'. Fantastic to train and hang out with some of their team.
London – Mercedes Benz Winter Ball – Fire and Ice
A recent corporate event where we performed with several other stunning circus acts.
We performed our Fire Fury act to bring some warmth to Mercedes Benz's Winter Ball.
The gala dinner was held in the beautiful Lindley Hall in London, one of the stunning halls of the Royal Horticulture Society built in 1904 and placed on the Statutory List of Buildings of Special Architectural or Historic Interest.
The setup and decor was beautiful with a central stage which had us performing in the round very
close to the audience.
The guests were more than warmed up after our fire show, with several comments quite taken aback by the sheer intensity. Nice to make an impression!
Lisbon – Boehringer Ingelheim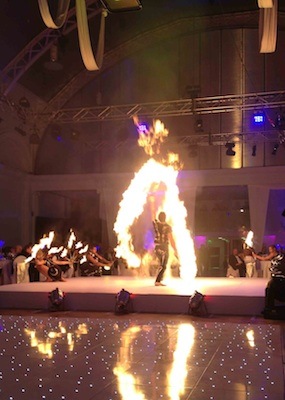 Boehringer Ingelheim held an annual congress in the beautiful seaside Hotel Cascais Miragem with delegates from across Europe.
To round off the corporate congress we performed our duo fire show 'Fire Fury'.
Our 'Dragons Breath' fireball effects were supplemented with a fire cannon array shooting across the front of stage. A combination which proved to be a fantastic hit.
Qatar – Heir Apparent's Cup
A short high power performance in Khalifa International Stadium, Doha Qatar.
We supervised a team of five fire performers brought out to light up the stadium for the opening of the largest football event in Qatar this year. Special effects and maximum fire power were brought to bear on this unique event which was broadcast to fans worldwide!
Switzerland – Hotel Royale
High impact custom freestyle fire for an exclusive event thrown by the world renowned Hed Kandi events. Overlooking Geneva Lake at the prestigious Hotel Royale.
London  – Responsys
All the stops were out for a maximum wow factor version of our Electroswing Fire Show at the Lancaster in London. Rockabilly swing theme was the name of the game here and with some fantastic MC'ing by Mario Queen of the Circus and our X factor corporate entertainment the night was a hilarious and high powered success.
Kuwait – World Futsal tournament
46 degrees outside! Luckily we were indoors for this custom production of the opening ceremonies of the World Futsal tournament.
Acrobats, dancers, aerialists, wall runners, martial tricksters and our fireballs and flaming choreographed fire show, custom tailored to a tango theme to represent the South American teams!
UK – Festival of Speed – Goodwood
10 Freestyle motocross riders jumping over us and an F1 onstage as we let loose some massive handheld fire effects for this exclusive private production for Lord Goodwood's event!
Aerial fire fans and our 'Dragons Breath' swords were just the warm up if you can believe it, finishing our act with a duo human pyrotechnic finale and supported with a  huge sky lighting fireworks display.
Edinburgh – Sky TV
An amazing arena setup for Sky TV's annual family day. 10,000 people and two huge shows. A great chance to pull out all the stops and give our biggest effects the space to really light the place up! The clients confided that they were worried two people could not fill the 15 meter wide stage, but once they saw the first show they were completely blown away. What a rush to get such feedback!

Latest posts by Spark Fire Dance
(see all)