Quora answer by Dan Miethke, Firedancer, Cirque du Soleil artist
Well, as far as my day here on a resident show: First & before all else, Coffee.
I have long mornings, and make the most of it, doing the majority of my reading, internet etc. going for a run on the trails nearby or a swim if its summer.
If I have a training session or fire rehearsal scheduled for the afternoon, head in a bit early, I live 10 minutes drive from the theatre. I usually like to have at least a 30 minute warmup before my practice sessions down in our training room.
My practice sessions are a scheduled 1.5 hours long.
I coach the two other artists in my act. For the fire rehearsals I have to submit a list of props I'd like fuelled and a plan for the session 2 days in advance so they can schedule the necessary technicians.
I generally spend rehearsal time either touching up on moves that might be less than perfect, or working on new tricks I want to bring to the stage.
After practice, shower, eat or gulp down some protein shake, sometimes I have a 30 minute massage scheduled in or a 30 minutes physio appointment with our performance medicine department.
Do makeup. When you first learn it takes you 2 hours. There's prep and a base layer, setting and then powders ontop. Although they would like us to take at least 45 minutes to an hour on it most of us have it done in 30 minutes (don't tell!).
Usually I have 20 minutes to spare before the start of show so I snag a couch in the green room and read or browse online. Others play pool or ping pong.
5-10 minutes before show start I get into costume and head to the training room, do some light stretching, say hi to a few people, get on the last bits of costume, head upstairs for my first cues as 'the Sage'.
I watch benevolantly from a balcony as the show comes to life, then run upstairs to get hooked up by the riggers for a flight 30 meters over the audience.
 My act is near the end with no cues in the middle so I have the whole show to warmup. I like a 45 minute warmup, unless I'm already warm from a rehearsal earlier in which case I'll just go over some moves.
The training room has a very nice sound system and we usually have some good music going down there to keep us energized.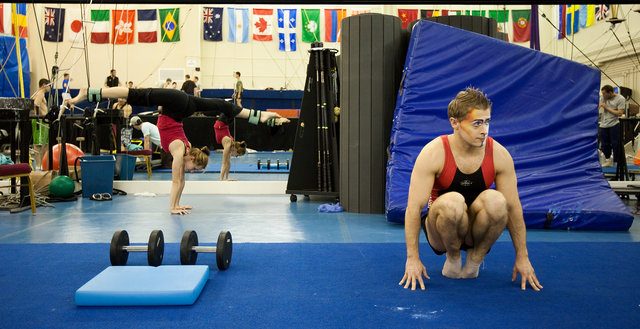 Then its time to head up to stage and bust out a performance.
My act is 6 minutes of running, jumping, kicking and high intensity martial arts style prop manipulation on fire.
This is where the training, the warmup and my mental preparation all comes to a focal point as I run out to begin. I try to embody the strength of my character in the intro section and then allow the muscle memory to take over and my body to flow through the patterns.
I try to focus on projecting my character with my body, expressions and voice right out to the people in the back seats.
Deep breaths to keep the oxygen flowing and relax as much as I can through the fire and the movements.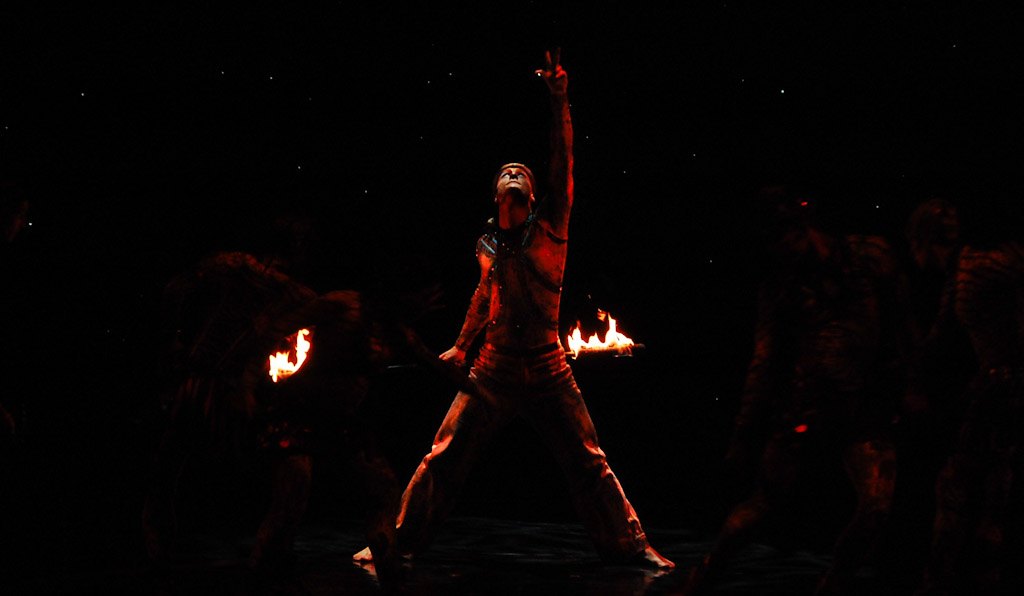 This can really be fun if i'm feeling good and we have a responsive crowd. It can be a drag if i'm sick or low energy.
Either way I'm usually pumped once I come off stage, I feel alive and usually pretty happy about what I've managed to do.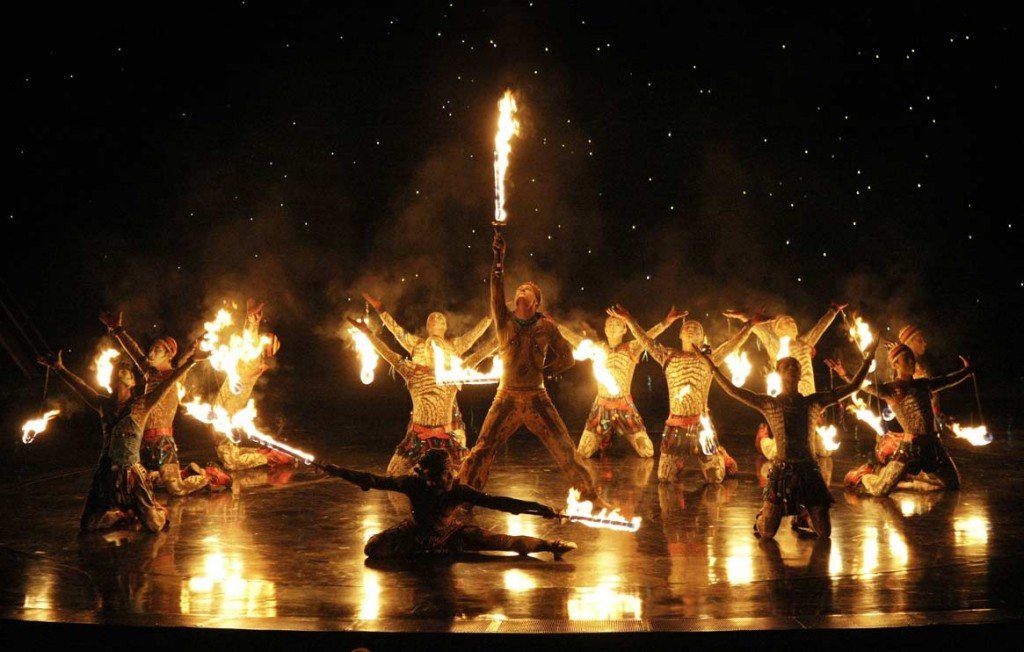 After I get offstage I have about 3 minutes to stretch out, catch my breath and get into my harness before my last cue, a final aerial flight over the stage.
Run out for bows. Hopefully its a good audience that's appreciated the work tonight. It really does make a difference to us if the audience cheers, makes it all worth it.
Run offstage, I usually have to give a little feedback to the techs that work on my props for the act as they are delicate and it's a fiddly process.
Head down to dressing rooms, shower, makeup off. Sometimes head down to the training room to do some weights training and stretching, sometimes head straight home. The show finish's at 9:30 but if I'm training I might get home by midnight.
Compliment the girlfriend on the delicious meal she's cooked.
Beer, internet, movies, sleep, rinse, repeat.
On my show we have 8-12 shows, 6 nights a week. So it can get pretty repetitive. You have to find ways to make it work for you. Either to stay inspired and teach yourself new skills, or study by correspondence etc.
We dont get much chance to party, one day isn't really enough to recover and we work double shows public holidays (xmas and new years on stage). But when we do get the opportunity we make the most of it.
Every 4-5 weeks we get three days off which is a dream. Every 4 months we get a week 'dark' (no show) which we count down for eagerly, like kids for xmas. Our show is in Asia so most artists fly out for a dark, either home or to holiday nearby in bali, thailand, philippines etc. 
It seems glamorous but the reality is it can be physically grueling at times. Unlike competitive athletes we have no off season, we're on, performing at high level, every night, often twice a night, so the body just doesn't get the down time to recover from injuries as quickly as usual.
Good maintenance, plenty of sleep and finding the right pace is the best way I've found to keep myself prime and ready to give it all to the stage night after night.
Here's a clip that shows the two Chinese dancers I've trained in firedancing doing some of their crazy jumps
http://vimeo.com/28096368
A technical clip of some of my double staff training
http://vimeo.com/32248023
Unfortunately I can't post any footage from the show, but here's a short bit from a fire swords performance of mine at Burning Man in 2011
http://vimeo.com/32355205